Dr. Gary Johnson, known locally in Tikonko as "Joe Tikonko" has returned to Minnesota after living most of the past year in Tikonko.  RHCI appreciates all the work he and his wife Sandra have done to help the people of Tikonko, including medical care, relationship building, developing RHCI's programs, and overseeing the construction site.
View a 2 minute 30 second collage of drone shots from the Rural Health Care Initiative's birth waiting home in Tikonko Chiefdom, Southern Province, rural Sierra Leone. The footage was taken in early March by Dr. Gary Johnson: https://www.youtube.com/watch?v=UDhpzxIaBYU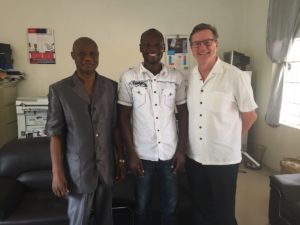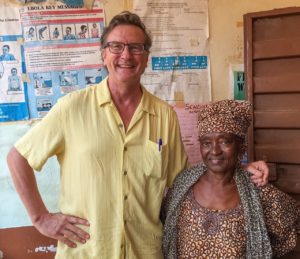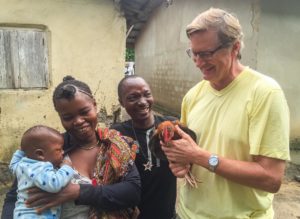 Pictured above left:  Dr. Turay (the District Medical Officer), Manley Jongopie, RHCI's in-country director, and Dr. Gary Johnson;  Above Middle:  Dr. Johnson with village chief from Sebehun;  Above Right:  Dr. Johnson holding the gift of a chicken from a grateful family.
Watch for reports from "Joe Tikonko" in this website soon, along with more pictures