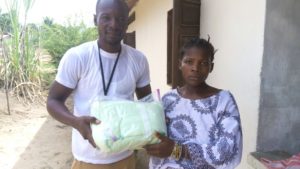 Over the past three years, Minnesota women, from the Presbyterian and Methodist churches have created baby kits and post-partum kits to ship to Tikonko Chiefdom in Sierra Leone.  More than 300 kits have been shipped by barrels to be distributed at three Maternal health posts in Tikonko, Kassama and Sebehun Tarbay.  The new mothers in Sierra Leone are very happy to receive new items for their babies.  Included in the kit are diapers, towels, blankets, soap and baby clothes.
RHCI wishes to thank all the women who have made donations, particularly Belinda Breit from Presbyterian Women of the Twin Cities area, the women of First Presbyterian Church of White Bear Lake and the White Bear Lake United Methodist Women.
Your generosity and compassion to help others who you may never meet is inspiring.
Blessings to you.