As the cold wind howls and the snow flies in Minnesota, RHCI board members Alice Karpeh and Carol Nelson are making the three day trans-Atlantic journey to the tropical country of Sierra Leone in West Africa. The trip involves car (to airport), airplane (with two or three layovers), ferry from Lungi Airport to Freetown, then 160 miles by Toyota Hilux from the Airport to Tikonko.  All of this takes approximately 2 1/2 to 3 days.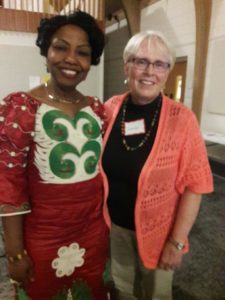 Though it sounds like a vacation paradise, Alice and Carol will be working for the three weeks they spend in the Tikonko Chiefdom.  Michelle, a friend of Alice, will be accompanying them, as she recently discovered  Sierra Leonean roots in her genealogy.  Lahai Ansumana, a Minnesota nurse originally from Sierra Leone, will join the group after a week, while he visits relatives in Bo, Sierra Leone and assists in preparations. Pastor Neil Craigan from First Presbyterian Church in White Bear Lake, a major RHCI supporter, will also catch up with the group when they all participate in the Opening Ceremony for the Birth Waiting Home in Tikonko on Saturday, January 13, 2018.  Neil will be the trip photographer, so watch for new amazing photos coming soon.
The name for the new Birth Waiting Home has been narrowed down to 2 Mende names, from the twenty names submitted by the Traditional Birth Attendants in the naming contest.  The final decision will be made by the Tikonko RHCI Project Committee, local Tikonko area leaders, with an announcement at the Opening Ceremony.
The staff at the Birth Waiting Home include midwife Josephine Wilberforce, Juliana Sagba, nurse from Marie Stopes International, Bobson Kamara, security staff, and a rotating group of Traditional Birth Attendants.  After the official opening, the newly named Birth Waiting Home will start receiving pregnant women to stay there during the final days or weeks of their pregnancy.  Births will take place at the local Tikonko Community Health Center, if uncomplicated.  Transportation will be provided to the Bo District Maternity Hospital for women experiencing complications during labor and delivery.  The women are welcome to spent up to 5 days at the BWH after delivery with their newborn, to recover before returning to their village.
During the month of January, watch for updates including pictures on Facebook.  Also, start considering making the trip to Tikonko next year, with the RHCI team, during the first several weeks of January.
On map above, Tikonko is located in the south central area, about 8 miles south of the city of Bo.