RHCI works hand-in-hand with Sierra Leoneans in rural areas to provide culturally appropriate healthcare and improve quality of life by increasing access to family-focused health care by:
Increasing capacity in human resources, education and infrastructure.
Investing in culturally appropriate healthcare models and enhancing practitioners clinical skills.
Collaborating with local and international organizations to address healthcare challenges more effectively.
Investing in appropriate technologies and infrastructure to promote safe and efficient access to healthcare.
Establishing community ownership to create a sustainable model of service.
#1 – Build & Operate a Birth Waiting Home
RHCI is nearing completion of the Birth Waiting Home for pregnant women, making available the access to skilled birth attendants at all deliveries, to serve the mothers within the area of the Tikonko CHC catchment area. We anticipate that the Birth Waiting Home will open in 2017. Tikonko's Birth Waiting Home will provide space and resources to prevent unnecessary mortality by situating women near the Tikonko Community Healthcare Clinic before they go into labor, as well as serve as a place to stay to recover with their baby after delivery. Educational classes and income generating activities will also be held at the Birth Waiting Home.
#2 – Operate Outreach Mobile Motorbike Clinics
RHCI is supporting a mobile motorbike health clinic for Tikonko Chiefdom's remote villages with a focus on prenatal, antenatal, children under five years, and other primary care needs, in coordination with Tikonko Community Healthcare Clinic. Started in October 2015, the mobile motorbike clinic operates on Fridays going to four villages in the Tikonko Chiefdom. In 2017, RHCI began providing additional support to the Peripheral Health Units in more distant areas of the Tikonko Chiefdom, including Sebehun Tarbay and Kassama. Medical supplies and medications are donated by RHCI and transported by motorbike to these clinics on a regular basis.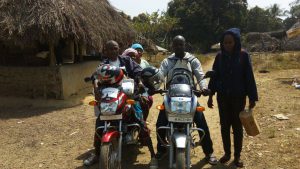 #3 – Provide Continued Education to Health Care Workers
RHCI is building the capacity of local Traditional Birth Attendants (TBAs) to become skilled Community Health Workers (CHW) and navigators for pregnant women in need of prenatal and antenatal care. RHCI collaborated with Midwives in Mission of Service during summer of 2015 to train 33 TBAs in a month-long training, and has since continued collaborating with the trained TBAs.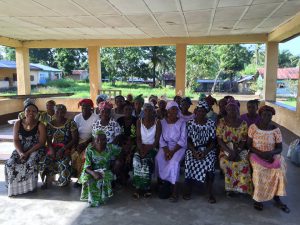 #4 – Upgrade & Support the Government Clinic
RHCI works to support local health infrastructure by providing Tikonko Community Health Clinic (CHC) with medical supplies, infant and post-partum kits and medications, as well as increased training for staff. In 2015, the CHC was upgraded by RHCI with painting and flooring improvements. Since 2013, RHCI has been providing this support, including donation and installation of a solar suitcase for electricity. With nine Peripheral Health Units in the Chiefdom, RHCI is gradually expanding its support to other health units in need of strengthening, as recommended by the Paramount Chief and Tikonko RHCI Project Committee.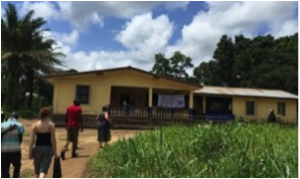 #5 – Agriculture & Nutrition
RHCI is working to cultivate land for agriculture and nutrition. Tikonko Town donated one acre of land to RHCI in 2012, and four acres were purchased by RHCI. This effort will increase the nutritional food available for pregnant women and children, and be used at the Birth Waiting Home. Two successful crops of groundnuts have been harvested in 2014 and 2015. In 2016, groundnuts and cassavas were grown. Diversifying and doing a demonstration project for the community are in the plans, and RHCI is working with international experts on planning our agriculture and nutrition efforts. A large vegetable garden and the planting of fruit trees are in progress.