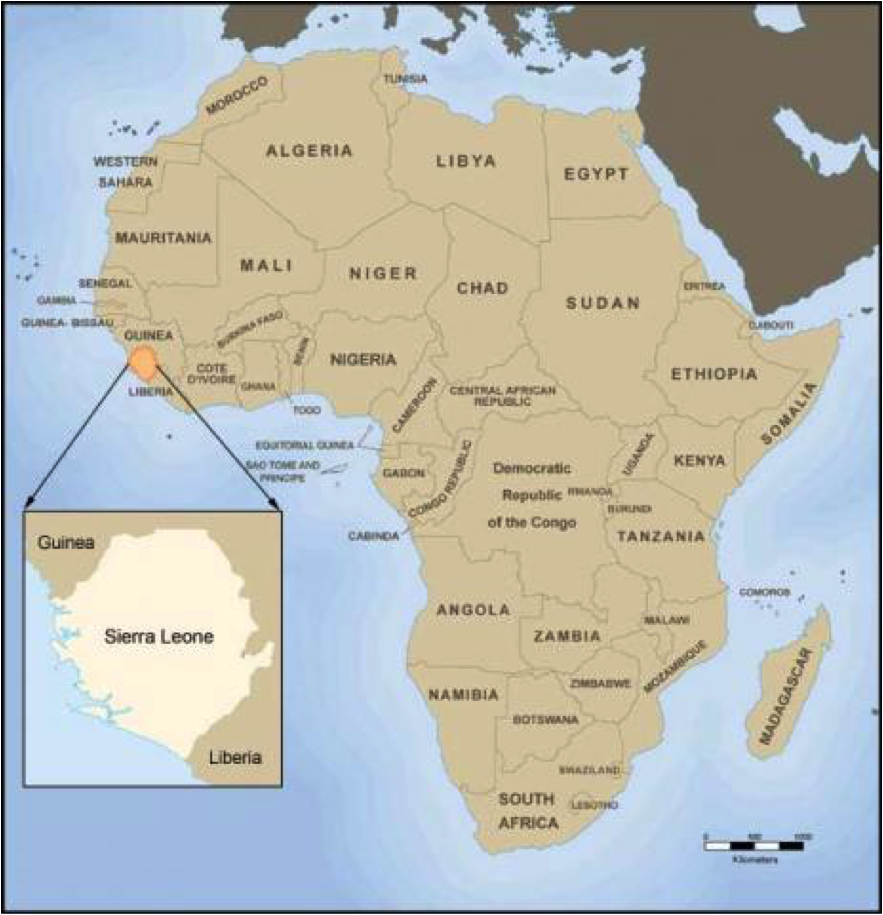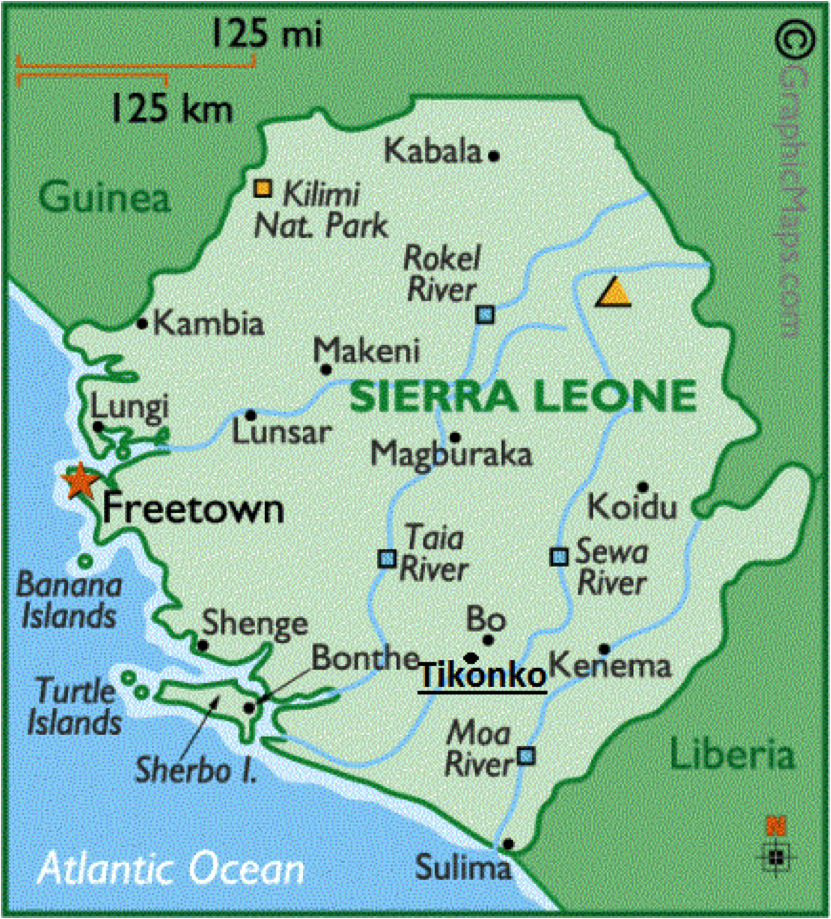 RHCI works in the Tikonko Chiefdom in Bo District, Southern Province, Sierra Leone, located 160 miles southeast of Sierra Leone's capitol city of Freetown. Tikonko Chiefdom is comprised of approximately 40,000 people in over 50 villages.
Sierra Leone
Total Population (2015): 7.1 million
Life expectancy at Birth : 50
Probability of dying under age five: 120/1000
Fertility (Births/woman): 4.7
Maternal Mortality: 1360/100,000
Lifetime risk of maternal death: 1 in 17
Tikonko is located 7 miles south of Bo at the junction of Tikonko Road and Lembema Road. Tikonko Town is the largest of many villages, with about 1000 residents. More than 25 villages use the Tikonko Health Center for medical care, labor, and delivery.
Current Health Access in Tikonko
While there is a small government-run Community Health Center (CHC) in Tikonko town, the nearest hospital is 7 miles away in Sierra Leone's second largest city, Bo. Although 7 miles may seem a short distance, it is a formidable barrier when faced with unpaved roads and little to no access to motorized transportation.
One in 17 women die related to pregnancy and childbirth of preventable causes such as hemorrhage, infection, eclampsia, and obstructed labor.
One in 8 children do not reach the age of 5.
Maternal Mortality
Sierra Leone is estimated to have the highest Maternal Mortality Ratio (MMR) at 1360 (999 to 1980) deaths per 100,000 live births in 2015. Maternal Mortality in Sierra Leone is 1in 17, the highest of any country in the world according to the recent report. Causes of maternal mortality include hemorrhage, obstructive labor, infection and eclampsia, which are all preventable or treatable with access to obstetrical care.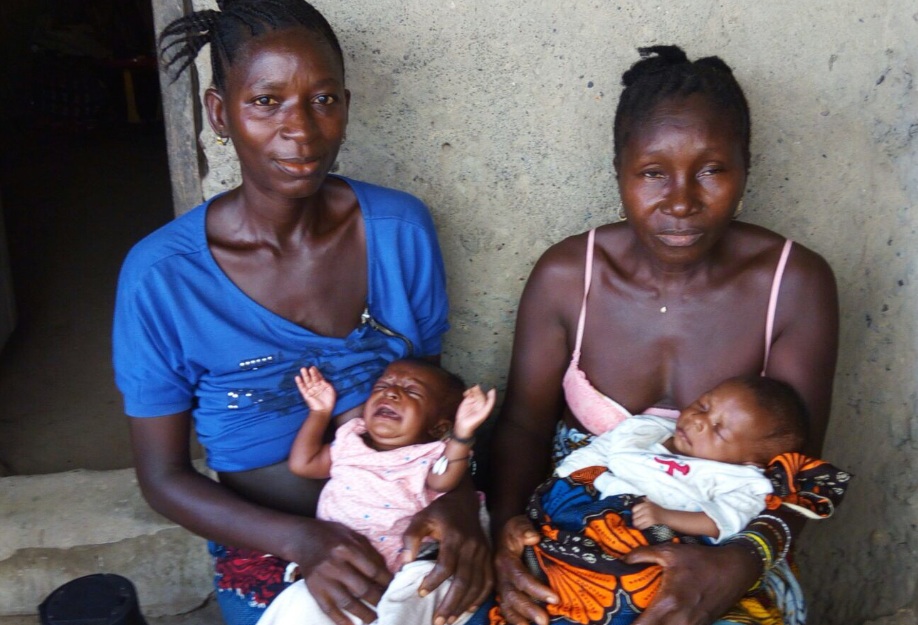 Ebola Outbreak
The Ebola outbreak of 2014-15 was devastating for Sierra Leone, with schools and businesses closed, and 14,124 cases and approximately 3,956 people dying, including many health care workers. Seventeen people died in Tikonko. Ibrahim Seisay, pictured here, from Tikonko, survived Ebola, and is shown with his certificate of discharge in July 2015. Also pictured, the memorial to health care workers from Bo that died of Ebola.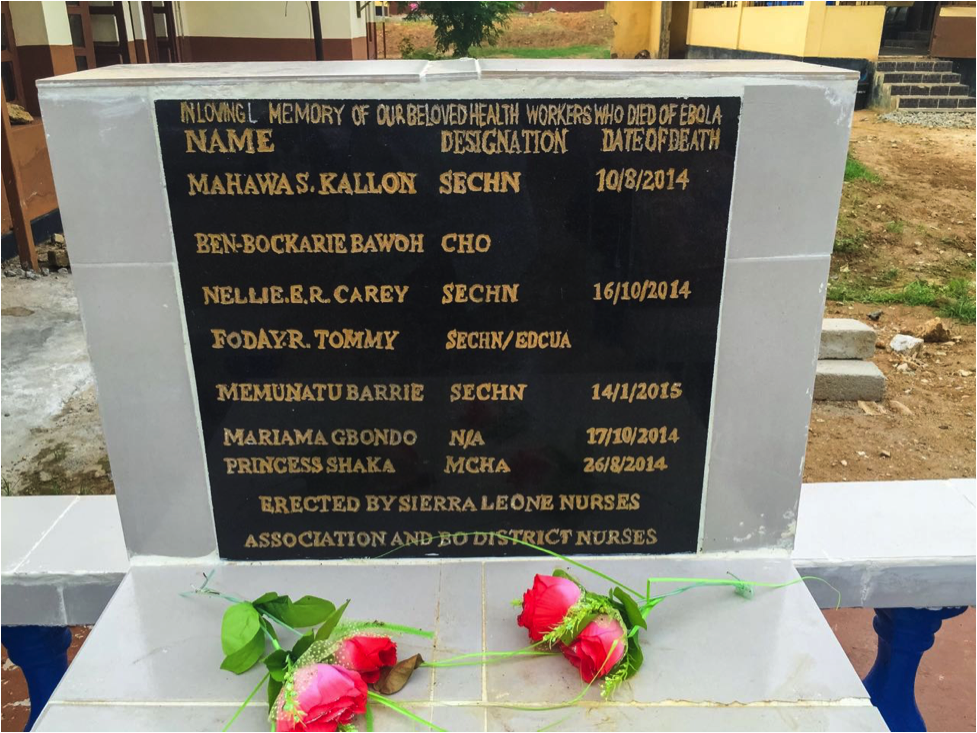 Civil War
Tikonko residents suffered greatly during the civil war. On June 28, 1998, the town was burned by rebels and 15 people died. They are buried in a mass grave and a memorial site is located near the Town Court Barrie.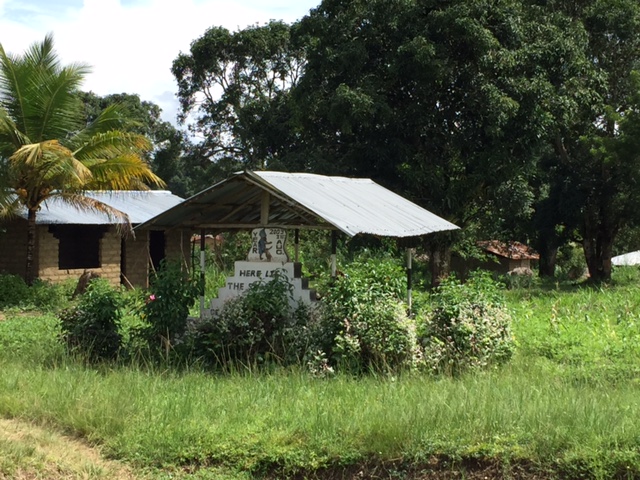 Tikonko Today
Christians and Muslims live in harmony in Sierra Leone. Tikonko is the home to a mosque and a number of active Christian Churches. In addition, the Mende tribal traditions are an important part of the culture. Most residents of the Tikonko Chiefdom are subsistence farmers, with an acre of less of land. Crops include cassavas, groundnuts, corn, and rice. Vegetables grown include okra, cucumbers, garden eggs (egg plant), potatoes, peppers, and more. Fruits available seasonally are pineapple, guavas, sweet shop fruit, mangoes, oranges and others. For most families, the hunger season, before the fall harvest and after the rainy season, is a time when only one meal a day is prepared and many people survive on the starchy cassavas. Many children and pregnant women do not receive the good nutrition they need for growth and development. Tikonko Town is the home to a number of schools including the Methodist Primary School, DEC Muslim School, SLMB School, Tikonko Secondary School, and FAWE Junior Secondary School for Girls. The Paramount Chief of the Tikonko Chiefdom is Joe Kangbai Macavory III. He comes from a long line of chief families dating back to the 1800's and British Colonial Rule. RHCI founder Alice Karpeh is a relative of the Paramount Macarory. The Paramount Chief is very supportive and appreciative of RHCI's work in his chiefdom.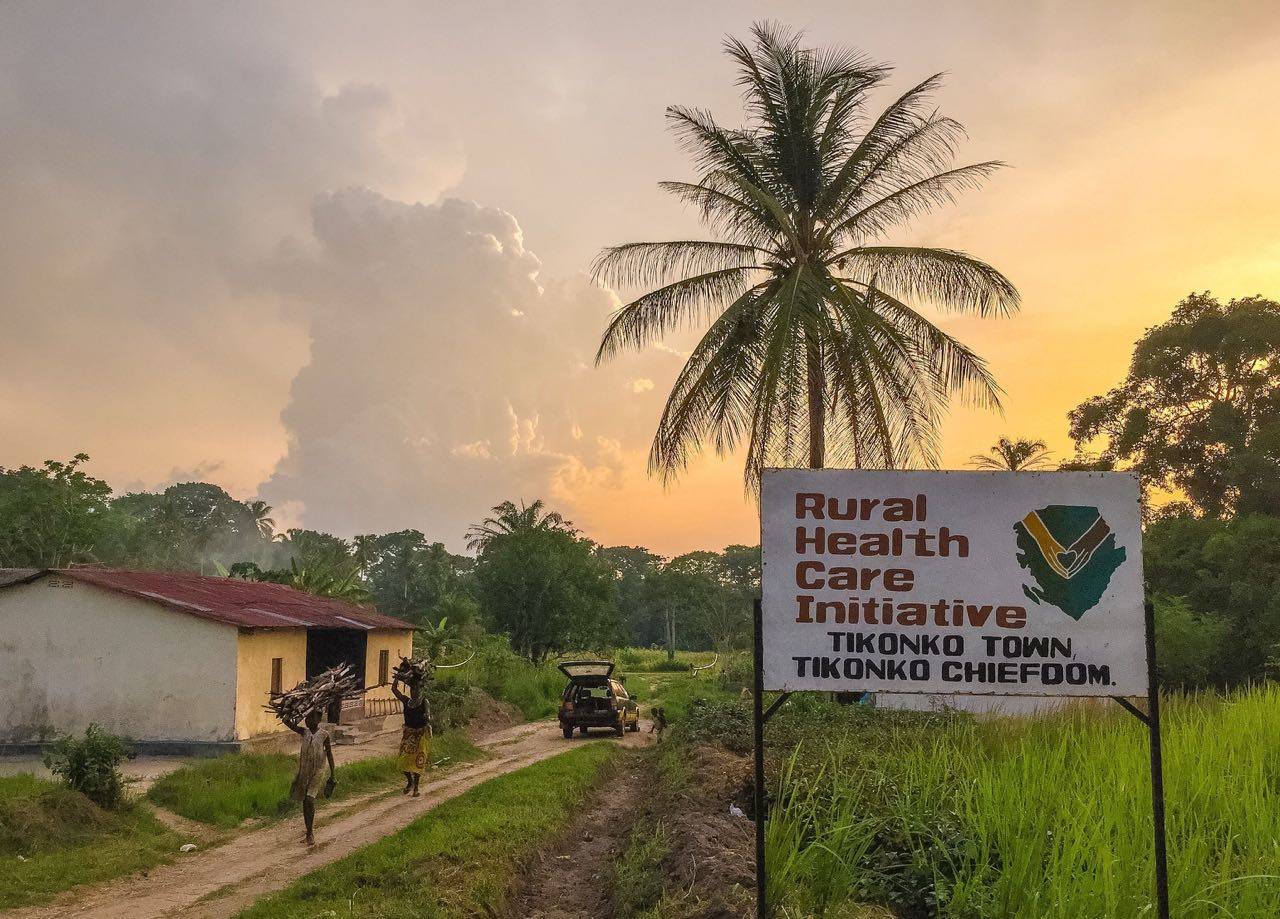 History from BBC News
Sierra Leone, a country in West Africa, has a special significance in the history of the transatlantic slave trade as the departure point for thousands of west African captives. The capital, Freetown, was founded as a home for repatriated former slaves in 1787. But the country's modern history has been overshadowed by a brutal civil war that ended in 2002 with the help of Britain, the former colonial power, and a large United Nations peacekeeping mission. Sierra Leone has experienced substantial economic growth in recent years, although the ruinous effects of the civil war continue to be felt. The country is also rich in diamonds and other minerals. The trade in illicit gems, known as "blood diamonds" for their role in funding conflicts, perpetuated the civil war. The government has attempted to crack down on cross-border diamond trafficking and to persuade foreign investors that blood diamonds are a thing of the past.