This post provides additional information from Dr. Gary Johnson  regarding his experiences in Tikonko during his extended stay, living there in 2016-17. See his bio on the Our Team page.
While in Tikonko last year, Gary was able to follow the building of RHCI's birth waiting home (BWH) from groundbreaking ceremony to painting and tiling.


Gary took a particular interest in the nutrition/agriculture aspect of RHCI's work in Tikonko chiefdom, and the state of food production and food security in the chiefdom.  Following Gary's advice, RHCI has hired a highly experienced farm manager along with additional farm workers. RHCI's intention is to grow food to feed our residents and staff at the birth waiting home, and to produce a surplus to either sell for BWH operating funds, or distribute to families struggling to feed themselves, especially those with pregnant women and malnourished children.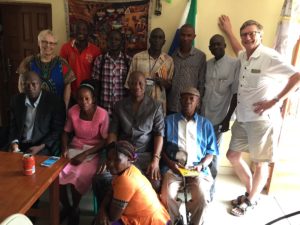 In addition, Gary and RHCI have organized several farming collectives, allowing local families to produce more food than they can on their own.  Organizing such collectives also allows access to agriculture extension services in Sierra Leone.
Gary and RHCI believe that good health, especially in our target population of women and children, depends largely on food security in a region where overwhelmingly people support themselves through subsistence farming.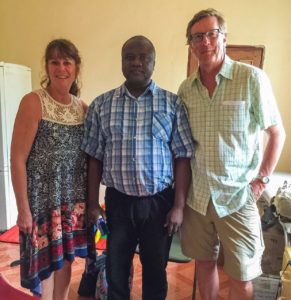 While living in Tikonko, Gary spent 4 months working weekly at Bo Children's Hospital caring for desperately ill children, including neonates. Principally, Gary performed the in-patient rounds. Falciparum malaria was the most common diagnosis. Some of the associated complications included cerebral malaria, seizures, severe anemia, severe hypoglycemia, disseminated intravascular coagulation and multi- system organ failure related to overwhelming parasite counts. Other common diagnoses including bacterial sepsis, severe respiratory infections, diarrheal diseases and typhoid fever, frequently complicated by mild, moderate and severe malnutrition.  Bo Children's Hospital saves the lives of many children, every day. It also sees deaths due to overwhelming disease beyond our ability to treat and cure with the limited resources at hand.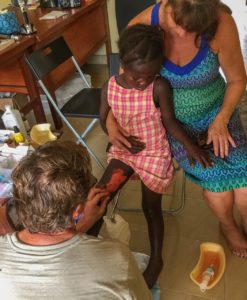 Gary and Sandra also became involved in all the health care problems to be found in a rural West Africa chiefdom. People walked, limped or were carried by loved ones to Gary and Sandra's door everyday, and some nights. Calls for emergency transport in the RHCI pick-up were frequent, including calls for emergency obstetrical care and transport.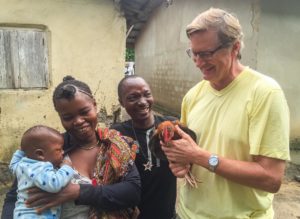 Gary helped to identify and initially interview Josephine Wilburforce, Nurse Midwife, and Julianna Mattu Sagba, another experienced nurse, who will be staffing our BWH going forward. These are key additions to the RHCI family, and they will be critical to RHCI accomplishing a number of it's key objectives.
Much more was accomplished, including making sure RHCI board chair's (Carol Nelson MD) mission in January 2017 was optimally successful (she did amazing work!). Also of great importance was working with the Tikonko Community Health Center staff, working with the traditional birth attendants (TBA's) in the chiefdom, participating in RHCI's outreach clinics, and helping RHCI extend our reach into additional remote communities in Tikonko Chiefdom by partnering with and developing long term relationships with two health posts staffed by maternal and child health aides.<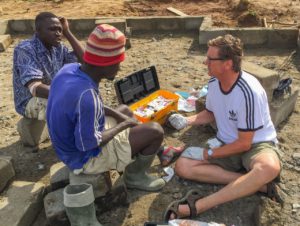 Relationships, relationships, relationships; they are the key to RHCI's work in Tikonko chiefdom.  Building these relationship by living in the village for an extended period of time helped to further establish RHCI's position in the community.  It's Gary's intent to now use his experience and relationships to advance RHCI's mission in the coming years.
And, he's definitely planning to return to Tikonko for years to come.  He views the work as a great opportunity and blessing in his life.